About This Fundraiser
Project Peace began one Christmas when our kids were inspired by people giving to kids in need across the world. They heard about the need for clean water and warm blankets in India and said "We could do that!" Now it's become a yearly Christmas tradition for us to make things and auction them to support the beautiful boys in the Mercy Boys Home.... this year, the kids goal is HUGE. But it's not impossible. Thank you so much for supporting their vision and the lives of these boys. It means the world to us.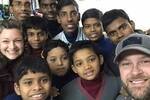 The Mercy Home for Boys provides holistic care to those who were once vulnerable and orphaned. Through carefully chosen house parents, Transformation 1040 is helping raise a generation of strong young men to be thoughtful, Godly leaders in their community. In 2018, we are asking sponsors to support the whole boys home (orphanage) ministry, rather than a particular child sponsored by a particular Individual or sponsor. This due to the new situations developing in India. On behalf of all of us at TIM we so appreciate your years of faithful contribution and prayers to these boys! We're asking for your continued support and prayers. Our annual goal is to raise $14,400 to support the Boys home for a year. Cost of operations, school, food, clothing, medical, education continue to increase in India. The total to support a child is now over $80 a month, with that we are able to provide for the physical, educational, spiritual and emotional well-being of these boys in a loving, Christ-centered home environment. You could also support a child with half sponsorship monthly $40.00, or one time gift. Any amount towards the operation of this Home will continue to help change some one's destiny forever.