About This Fundraiser
Hi! It's the Brickey family! This year we are wanting to help Transformation India start a care center for vulnerable children in the neighboring slums of the TIM center. There are so many children who spend the majority of their days alone and vulnerable and this program would care for them spiritually, physically, and emotionally in a safe and protected space. If we hit the $12,000 goal, then 50 kids can be sponsored to be a part of this program!!!!!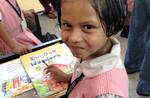 Bihar's poor villages teem with needy, illiterate children. Without proper education or guidance, children often end up victims of child labor, or worse, sex trafficking. You can transform the life of a child by giving them an opportunity to attend school and hope for the future. Transformation 1040 also also provides spiritual training to the child's family through special programming. For $20 a month, you can send a child to school with a uniform, backpack and books. Together, let's send 200 children to school this year.
GOAL: Educate 200 children.