About This Fundraiser
I was inspired by my cousin's recent mission trip to India. When I learned that for $225, you could change the life of not only a woman but her family and village, I wanted to be a part of that! $225 is a car payment for many of us here in America. To think that one month's car payment could change true course of someone's life and shine God's glory, how could I not get involved! Won't you help me raise the tuition and cost of a sewing machine and be a part of changing the world and shining God's light a little brighter?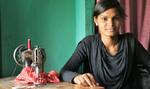 The majority of women in Bihar have little education and possess few marketable skills. Transformation 1040 trains and equips women to start their own micro-enterprise business, in the context of Christ-centered training. Your support of $225 provides one woman six months of training in the Bridge of Hope Sewing School and her very own pedal-powered sewing machine. Women graduate from the program not only prepared to help support their families but with a new understanding of Jesus. Approximately 40% of students enter into a life-transforming relationship with Jesus.
GOAL: Provide sewing instruction and a sewing machine to 240 women.